RV Fire Suppression: How to Avoid Disaster
An RV fire is one of the worst things that can happen to an RV. An RV is filled with fiberglass, wood, carpeting, fabrics and almost anything else that can (and will) burn rapidly. Throw in a mess of electrical wiring and once a fire starts, you have very little time to do anything before it gets out of hand and your RV burns to the ground.
Thousands of RV fires occur every year.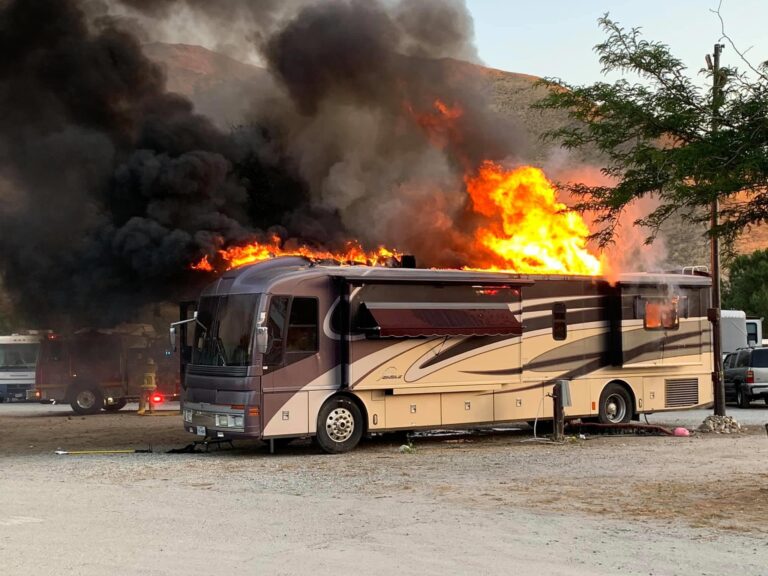 RV Fires: How do RV Fires Start? 
About two thirds of these fires begin as an electrical fire where hot wiring or sparks can easily ignite any of these materials that surround the wiring. RV fires can begin in any number of areas where electrical componets are found. Common places for electrical RV fires to start include:
Engine compartments
Generators
Breaker panels
Battery compartments
Inveterts
Automatic transfer switches
A number of other areas
In addition to a fire that begins from an electrical failure, another potential danger area is an absorption style RV refrigerator where a cracked heat exchanger can allow hydrogen gas to escape and be ignited. This danger increases as they age.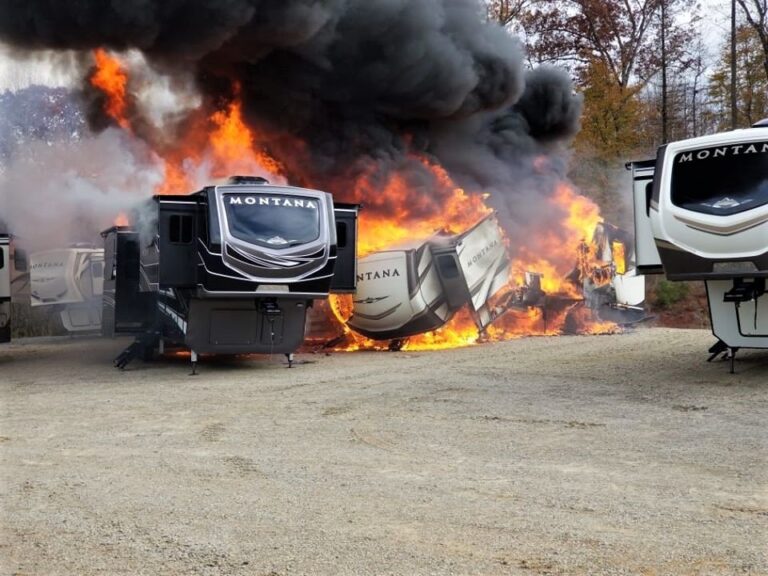 Manual Fire Extinguishers: Do They Work for RV Fires?
If the fire is not detected and dealt with immediately, it can be too late to remedy the situation and hopefully there's enough time to bail out before your RV becomes engulfed in flames. If the fire is detected early enough, there is a good chance that it can be extinguished immediately to limit the damage and save the coach. However, this requires an automatic extinguisher system because it's a rare opportunity that you would detect a fire in time to deal with it with a manual fire extinguisher. Couple that with the fact that most fire extinguishers in an RV are inadequate to handle most fires due to their limited size and technology, and it's fairly obvious that an automatic fire suppression system is your best chance to save your RV. Before we go any further, let's take a look at how various fires are categorized, what makes a fire and how to extinguish a fire.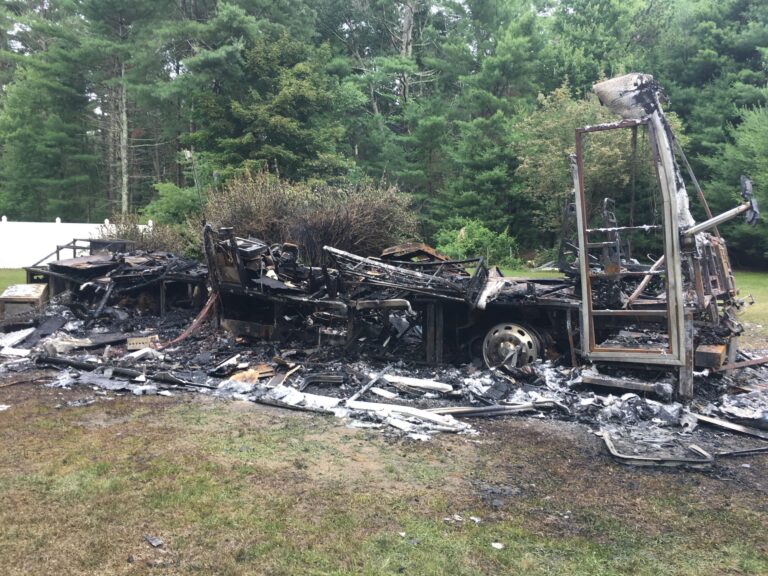 Fire Categories:
Fires are categorized by classes which are established by the National Fire Protection Association, or NFPA. Each category describes a fire that uses a specific type of fuel. Fire extinguishers are typically labeled as capable of handling certain classes. Following are some descriptions of fire classes:
Class A Fire – These are fires that begin with wood, cloth and paper as their fuel. The key to remembering this is by equating the letter "A" with "ash" which is what these fires leave behind.
Class B Fire – These fires occur in flammable liquids, such as gasoline, oil and other combustible fuels. Liquids boil so equate a class "B" fire with the word "boil".
Class C Fire – These fires are electrical fires that occur in energized electrical circuits. Energized circuits pass a current, so equate a class "C" fire with the word "current" and you should be able to remember how to identify these three fire classes.
Class D Fire – These fires are from combustible metals such as magnesium or sodium and really don't apply to RV use, so you won't have to worry about those here.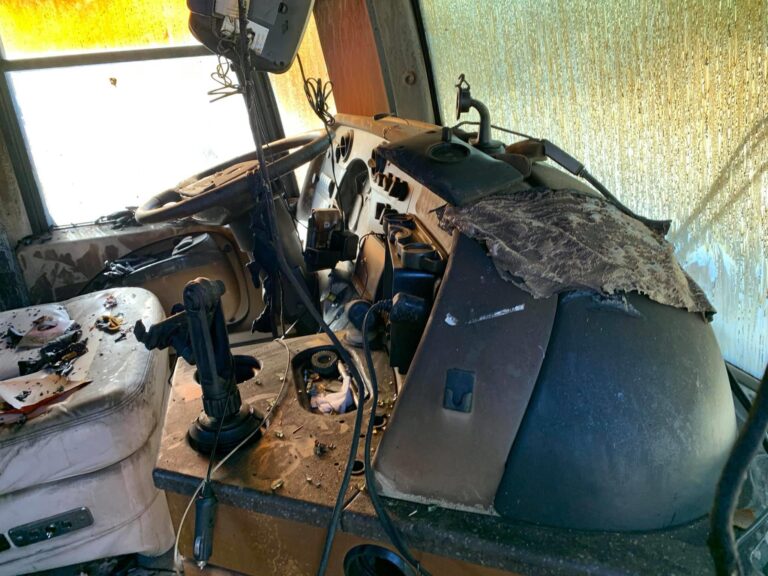 The Fire Triangle
In reality, a fire is nothing more than a rapid chemical reaction. Think of the hot sun darkening a piece of newspaper that has been laying around in a store window over several years, fading away until it turns into ashes. A fire is merely that same process only sped up to warp drive speeds, degrading it in seconds rather than years. This speedy process also generates lots of heat in a short period of time and is referred to as combustion.
In order to have combustion, three things must be present – fuel, oxygen and heat of ignition. These three elements are commonly displayed in the fire triangle. Take away any one item from the triangle and the fire will extinguish. The choice of which element to remove depends on the class of fire. Different fuels will have different temperatures that they will ignite at. You will need to heat up campfire logs to a fairly high temperature in order to cause them to ignite whereas paper or cloth can easily be ignited at a much lower temperature with a match or spark.
Class A Fires in an RV
A class A fire uses fuel such as logs in a campfire – or carpet, fabrics or paneling in your RV's interior. Campfires are easy to extinguish just by dumping water on them so that the wood cools down to a temperature beneath the point of ignition. Dumping water on a class A fire in your motorhome interior isn't such a great idea, however, due to collateral damage plus the risk of electrical shock. Most RVs come with a small dry chemical extinguisher that is rated for class A, B and C fires and operates by coating the fuel, thereby separating it from oxygen to suffocate it. But the chemical retardant has its own set of concerns. The chemical becomes toxic once heated and is also corrosive to any electrical components. The small size of these extinguishers also makes them inadequate for anything but the smallest fires. Fortunately, the majority of class A fires are the result of an electrical failure elsewhere, so if the source can be dealt with early on, it won't develop into a major inferno.
Class B Fires in an RV
A class B fire uses liquid fuel such as diesel fuel, gasoline or oils. You should NOT use water to extinguish these fires or else the water will cause the liquid fueld to spread. These fires need to be suffocated with a dry chemical extinguisher or cooled down with CO2, foam or clean agent gas extinguisher.
Class C Fires in a RV
A class C electrical fire will require either dry chemical, CO2 or clean agent gas extinguisher to suffocate or cool the fire. Water and foam cannot be used due to the energized circuits' shock hazard. However, a class C fire is only when the circuit is energized. Most class C fires quickly become class A fires once the circuit breakers trip to de-energize the circuit and the surrounding material starts to burn.
THIA by Proteng: A Fire Suppression System
The key to extinguishing a fire is a quick response with an extinguishing agent. Manually applied systems fail in many of these instances because the fire is generally established before the occupants notice the fire, assuming they are even present. Automatic extinguishers eliminate that lag but most are AFFF (Aqueous Film Forming Foam)-based systems that are limited to the engine compartment and maybe an absorption style refrigerator.
I decided to do an upgrade of my existing engine bay's AFFF system after researching a new product available exclusively from National Indoor RV Centers that was designed specifically for RVs – THIA by Proteng. This system originated with race cars. Their high output engines created plenty of heat, meaning the potential for fire was high – especially in a crash. Proteng developed the THIA system of extinguishing fires, which has since been very popular with boats, airplanes, buses and other equipment but has just recently been introduced for RVs.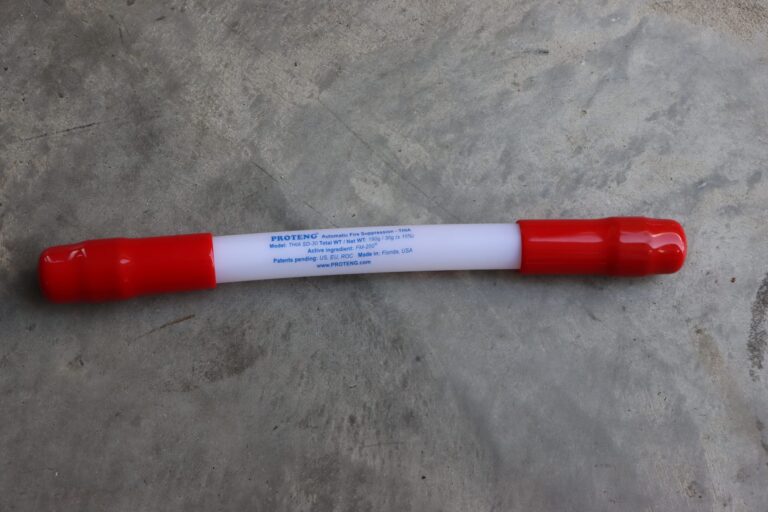 A small THIA device by Proteng used for small compartments
What is THIA by Proteng?
THIA stands for Tube+Heat=Instant Action. The system consists of polyamide (a synthetic polymer) device that is filled with FM-200 fire retardant. FM-200 is a popular state-of-the-art retardant that eliminates many of the drawbacks of other retardants. Unlike dry chemicals or foam, it leaves no residue, is non-toxic and is safe to use on equipment without causing any collateral damage. You may consider it similar to Halon gas but that is not the case. Halon gas displaces oxygen from the air and is toxic. Halon is considered a clean agent gas but has an extremely high potential for ozone depletion, contributing to global warming. As such, production of Halon ceased under the 1994 Clean Air Act and was banned, although it is still legal to use existing Halon extinguishers. FM-200 is also a clean agent gas but is not toxic and functions by cooling down the fire's fuel to a point lower than its flash point rather than displacing oxygen. Keep in mind that three things are needed to maintain a fire – fuel, oxygen and heat. Removing any one of these items from the fire triangle will stop the fire.
THIA by Proteng is a patent-pending system that uses polyamide devices that are filled with FM-200 and placed in strategic locations throughout the RV. These devices don't require any bulky valves, hoses or wires which makes them perfect as standalone units requiring minimal installation. Different length devices are available that are custom fit for each area's potential exposure. The devices are available in two temperature ratings – the standard duty devices are designed to rupture and actuate at 158 degrees Fahrenheit, while the heavy duty devices are designed to actuate at 194 degrees Fahrenheit. The HD devices are also wrapped with protective mesh shield for longevity as they are generally used in engine compartments and generator enclosures.
The devices fill with FM-200 and seals the end up with hydraulically crimped brass end fittings. The FM-200 at rest will have 72 PSI of pressure and will be in liquid form. As the devices heat up, the pressure will form gas at almost 350 PSI just prior to actuation. When the device heats up to the specified external temperature it ruptures, releasing expanding FM-200 in gas form at 1.6 degrees Fahrenheit to rapidly cool down the fire's fuel, breaking the fire triangle and rapidly extinguishing the fire.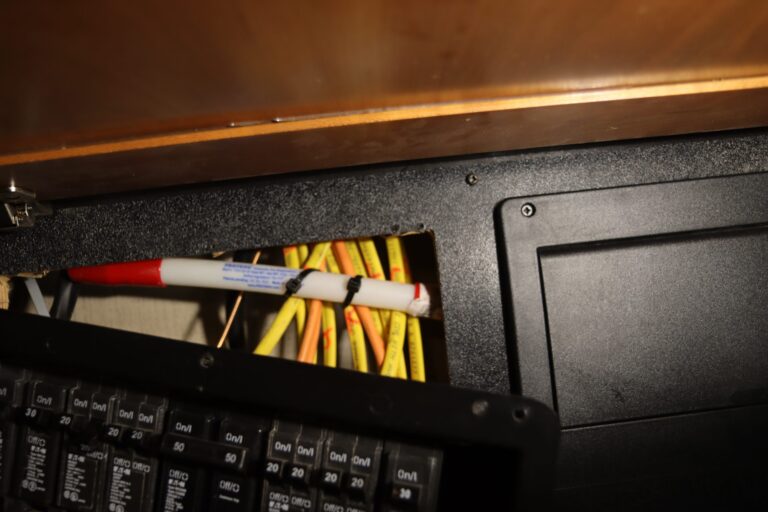 A THIA-50 was installed behind the electrical breaker panels
THIA by Proteng Installation in the Entegra Cornerstone
We took our Entegra Cornerstone to NIRVC's Lewisville, Texas facility just outside of Dallas for our installation. The installation began with a tech who checked over the RV to find any potential fire risks and measure for the correct THIA by Proteng device to handle that area. 15 minutes later, he returned with a cart full of various device assemblies and began the installation. His first step was to remove the two breaker panels in the overhead cabinet on the left side of the cockpit. A small THIA by Proteng device was placed behind the breaker panels and fastened to the Romex with high heat cable ties. 
Next, we went to the engine compartment. The device chosen for this coach with its large 600 HP engine compartment was the heavy duty version and was 21' long and began in the chassis battery area in the curbside compartment so that it could be used to extinguish any fires in that area as well.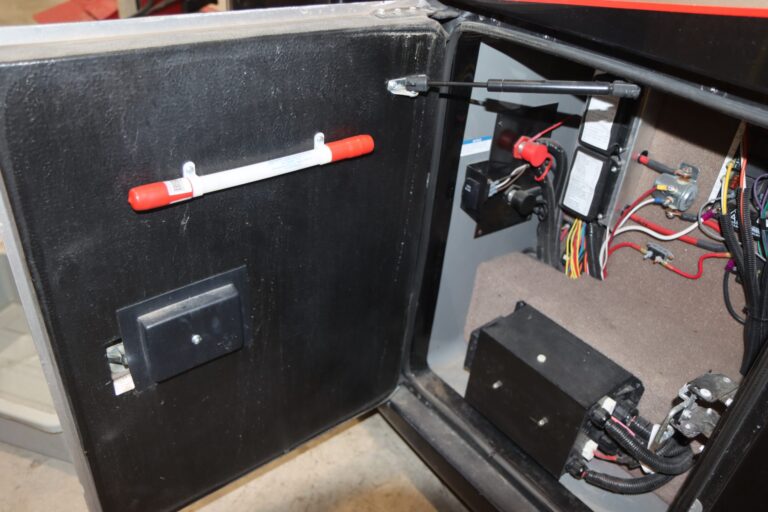 A small THIA by Proteng device was also placed in the driver-side front electrical compartment
From there, it passed the DEF tank and crossed the bell housing to the driver's side before turning back to the rear of the coach. From there it passed back along the curbside of the engine to the starter motor. This large loop passed by every electrical component or potential fire risk. The long length provides a large enough supply of FM-200 to adequately extinguish even the largest fire in that area. One other advantage to the polyamide device is that it will rupture at the hottest point. Unlike a foam system with one or two sprinkler heads, this gives the device an unlimited location to dispense the FM-200 gas right where it is needed  rather than in a general location at the top of the compartment.
The 21′ HD device used in the engine compartment began at the side compartment by the chassis batteries to include their protection. HD device are covered in mesh protective wrap
Next, a small device was installed at the driver-side front-most compartment where a number of electrical components are located. Another device was fitted to the compartment that houses the eight house batteries.
The eight chassis batteries are now protected by a 3′ long THIA by Proteng device
Normally, the device would be mounted above the batteries but this compartment has two stacks of four each and is pretty tight, so the device was mounted in a U-shape to the inside of the bay door to cover both layers of batteries. Another device was placed in the compartment where the electrical transfer switch is located. This was the same compartment where the Aqua-Hot is located, so a larger device was mounted to service this area.
Entegra used a pair of Magnum inverters and mounted them on a tray between the frame rails above the front pass-through storage bay so another device was inserted above the inverters to properly protect them. Lastly, the generator received a second heavy duty device that was inserted inside the generator's enclosure. That completed the system on our coach.
THIA by Proteng device in the generator housing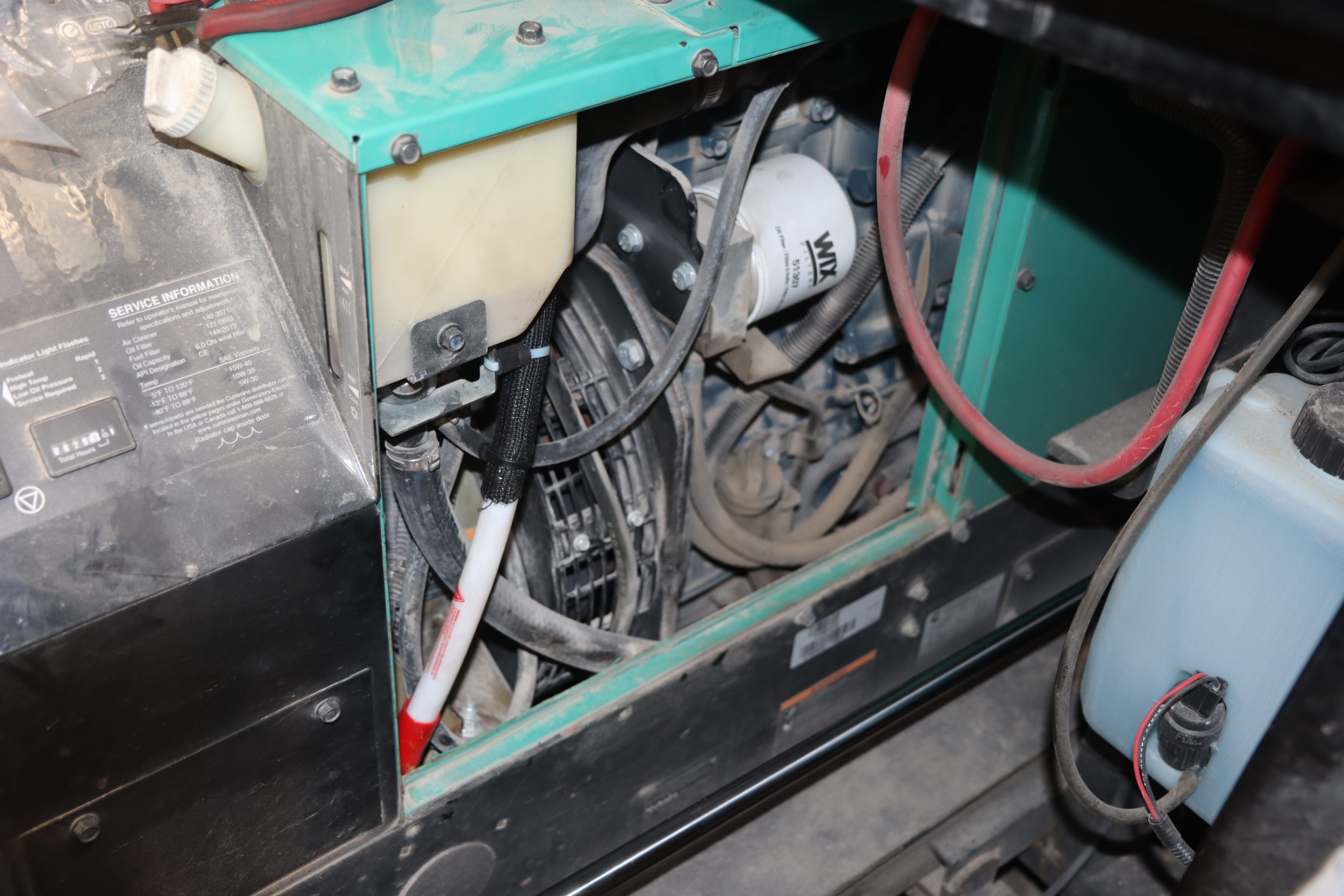 We have a residential refrigerator that is tucked into a cavity in the slideout, so we did not equip that with an extinguisher. However, if we had an absorption style RV refrigerator, we most certainly would have placed a device behind the fridge.
THIA by Proteng systems are ideal for protecting absorption style RV refrigerators. This particular coach had a device installed the fridge.
Protect Your RV with THIA by Proteng
THIA by Proteng for RVs is sold exclusively through any of the National Indoor RV Centers. All of the devices are made in the USA, although the material isn't available locally and has to be imported from Europe. The systems are backed with a 4-year warranty. Prices vary from $159 up to $1,399, depending on the length of the device. Every system is custom designed for each RV, so prices will vary accordingly.
Learn more RV fire safety tips here.