Since they can be assembled ahead and baked in the convection oven at the last minute, stratas make great brunch entrées.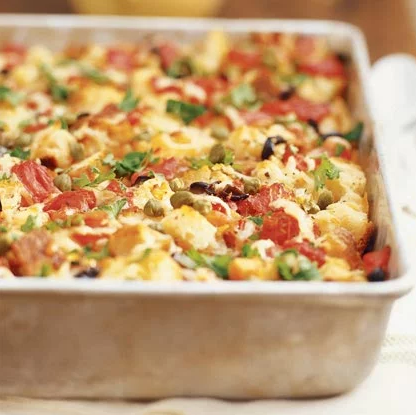 Ingredients
1 loaf (1 lb.) crusty, Italian-style bread, cut into 1-inch cubes
4 ounces thick-sliced prosciutto or ham, diced
¼ cup chopped canned roasted red peppers
¼ cup thinly sliced green onions
½ cup grated parmesan cheese
1 can (14 1/2 oz.) chopped tomatoes
¼ cup pitted black olives, coarsely chopped
½ cup shredded mozzarella cheese
6 large eggs
3 cups milk
2 teaspoons dried Italian seasoning blend
½ teaspoon salt
½ teaspoon pepper
¼ cup chopped parsley
2 tablespoons drained capers
Directions
Step 1 – Spread half the bread cubes level in a lightly oiled 9- by 13-inch baking dish. Top evenly with prosciutto, peppers, green onions and parmesan cheese. Spread remaining bread cubes level on top, followed by tomatoes, olives and mozzarella.
Step 2 – In a bowl, whisk eggs, milk, Italian seasoning, salt and pepper to blend. Pour over layered ingredients. Cover and chill at least 1 hour or up to one day.
Step 3 – Bake in a 325° regular or convection oven until center of strata is set and top is lightly browned, 40 to 50 minutes. Sprinkle evenly with parsley and capers. Let stand 10 minutes, then cut into squares. Serve warm or at room temperature.