Recently I had the opportunity of visiting two gorgeous RV Resorts, and when I say resorts, I mean these parks are NICE.
Resort #1 – Florida Grand RV Resort
The first to make mention of is Florida Grand RV Resort in Webster, FL. Now this place is completely off the beaten path. It is in the middle of nowhere. Having said that, it was definitely worth the drive.
After passing several farms and acres of fields with the spare cow here and there, you come to the pearly white gates of the Florida Grand RV Resort. A cheerful welcome by the gate attendant ushers you in where you are greeted by a magnificent clubhouse. On the other side of the club house is a large inviting swimming pool. To the right of the clubhouse are brand new pickleball courts. Among other amenities are a business center, library, laundry, showers, etc. All were incredibly tidy and clean. Staff was gracious and kind. The sites were equally impressive. Each site is a double wide cement pad, with full hook-ups. Because each site is actually owned then rented out for overnighters, the sites themselves are impressive with beautiful landscaping…some even have a built-out casita.
For more information check out, www.floridagrande.com. Reservations can be made by calling, 352.569.1169. You may love it enough to want to purchase a site yourself. While in the area, try this charming little restaurant in downtown Leesburg, called SIP on Main Restaurant Jazz & Blues. While there I had an amazing French Onion Soup…perfect for some of the cooler evenings.
Resort #2 – Cabana Club RV Resort
The second resort to mention is called Cabana Club RV Resort out of Auburndale, FL. We came across this slice of heaven on a recent site inspection. The resort is brand new with their grand opening taking place in early February. In fact, we loved it so much, we will be hosting an AIM Rally there this coming May of 2021. This new resort also offers a guard gated entrance. There are level sites all over with pull throughs and full hook-ups. The club house is sparkling clean with an inviting array of amenities sure to please even the pickiest of RVers.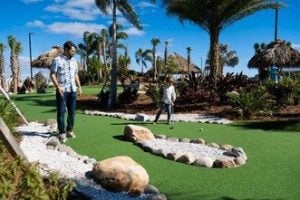 From the warm and inviting lounge where games can be played, to the outside covered patio area (pool side) with large screen TV's…you will not be disappointed. There is never a dull moment, enjoy a round of mini golf on the new 9-hole course. You could also grab a bite to eat and watch amazing tricks performed by championship wakeboarding athletes at the adjoining lake.
And for those always on the go, there are 40 miles worth of paved trails to walk your furry friends on. Once back at the resort, take your dog to one of the on-site enclosed dog parks. When it's time for a bath, the park has its own pet washing stations where every pooch can be pampered. In the evenings…sit back and relax around one of the several campfire areas near the outdoor full-service bar.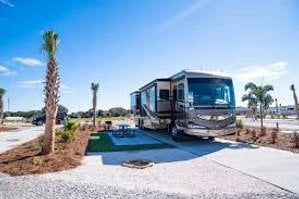 At this resort you can be as busy or as chill as you want to be. The only bad time you'll have at this resort, is when it's time to pack up and leave. For reservations call 863.455.7335. To join us for the AIM Rally in May, click here to make your reservation.