Beautiful Does Not Begin to Describe…
In recent travels, our event staff has come across many different RV resorts. One such resort can be found in Chula Vista, CA. It's called Sun Outdoors – San Diego Bay, a spectacular example of what a Sun Outdoor Resort looks like. This particular park happens to be brand new having just opened in April 2021. It has beautiful views of the San Diego coast with premium sites overlooking the water. The resort has full hook-ups, level sites, lots of pull-thru's, beautiful amenity center with restaurant and bar! The management team there keeps everything neat and tidy as well.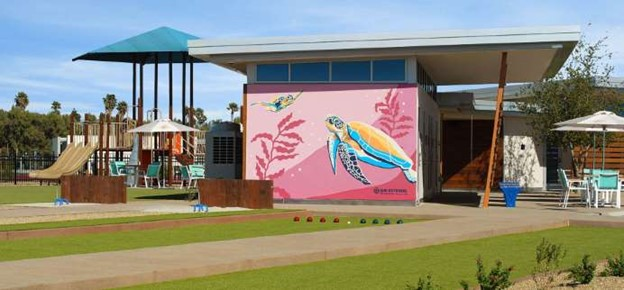 The property is gated, and security is present, but not in your face helping to keep everyone safe. There is an indoor event area right beside a rather large, gorgeous pool. While we were there, country line dance lessons were being taught pool-side. We also saw Pickle ball, Bacchii Ball and Shuffle Board courts were available. The resort is beside an expansive nature reserve with biking and hiking trails to take advantage of. Believe us when we say, "there is not a shortage of things to do." We found temps near perfect levels and shorts and T-shirts were definitely the clothing choice of everyone we saw.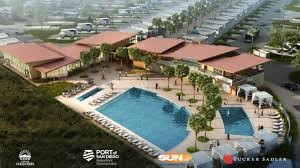 With proximately so close to downtown San Diego, there is even more to do there. Harbor boat tours, Segway tours around the city, Pirate ships to explore were a few things we noted while checking out the sites. And if you love seafood, Bluewater Seafood Market and Grill is a must. Nothing too fancy, be sure to order the fish tacos. They were fresh and tasty and certainly kept our stomachs satisfied.
So…whether you are looking for adventure or just a nice get-a-way to relax and unwind, we can promise you Sun Outdoor Resorts – San Diego Bay has just what you're looking for.