RView Podcast | RV & Travel Adventures — Interview with NIRVC's Angie Morell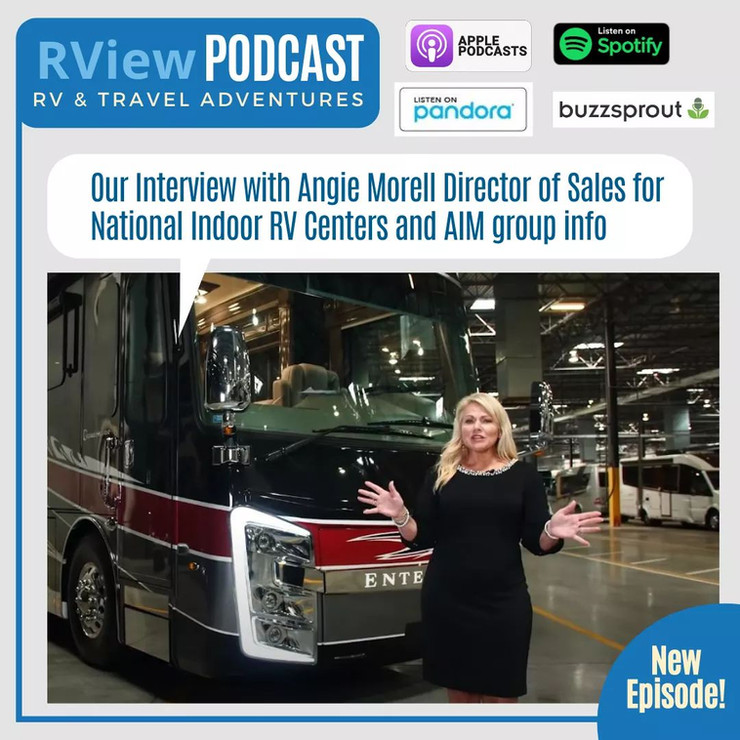 LISTEN HERE:
Pandora: https://pandora.app.link/Z2N9wUfubdb
Buzzsprout: https://rview.buzzsprout.com/830026/7312069-our-interview-with-angie-morell-director-of-sales-for-national-indoor-rv-centers-and-aim-group-info
Join Lisa & George Hernandez at the 2021 Tampa RV Supershow as they speak with Angie Morell about NIRVC, all of their wonderful services, and will also give us insight into the All-Inclusive Motorhome Club, of which National Indoor RV Centers (NIRVC) is a major sponsor.
"We've only been [at the Tampa Show AIM Club campground] this weekend and we're already amazed by the dinners… the music… We're hooked!"
Angie has been in the RV business for many years and has developed a wealth of knowledge around the RV lifestyle. She has been with NIRVC since 2013 and has worked her way up from selling storage, to staging coaches, to selling motorhomes, to becoming the face of NIRVC through her fun and informational YouTube videos, to now being the Director of Sales for all 5 of NIRVC's premium locations.
"If you're thinking about buying a coach, or trading your coach in, or upgrading, or starting out in RVing; having a salesperson like Angie that knows all the different lines is really really important! I can't tell you how many times when we were shopping for our first coach, they didn't really have all the details."
Tune in to learn all about all that the All-Inclusive Motorhome Club has to offer its members, as well as the history and various offerings of National Indoor RV Centers. This is a podcast episode you will not want to miss!
Want to get in touch with Angie?!
Here's how to reach Angie and please make sure to tell her that you heard it hear at RViewpodcast.com.
Angie Morell
National Indoor RV Centers
Director of Sales Cell
Phone: 214-392-1100
Direct Line: 469-277-1120
Email: amorell@mirvc.com
Also, check out Angie's videos on YouTube and subscribe to NIRVC's YouTube channel, so you never miss another one of her amazing videos!
Want to learn more about the AIM Club?!