If you know, you know… If you don't, you need to get to an AIM Club event!
Mmmm… Golden brown, crisp-fried in peanut oil, and perfectly seasoned, Randy's hand-cut, fresh french fries are legendary. Definitely one of the secret perks of AIM Club membership. Something to look forward to at every AIM Rally, FMCA Rally, Tampa RV SuperShow and other events around the country. Some AIM Club members dream about those french fries. [This member can confirm.]
[French Fry Photos (2) by Ruth Bernett Candler – AIM Club Member]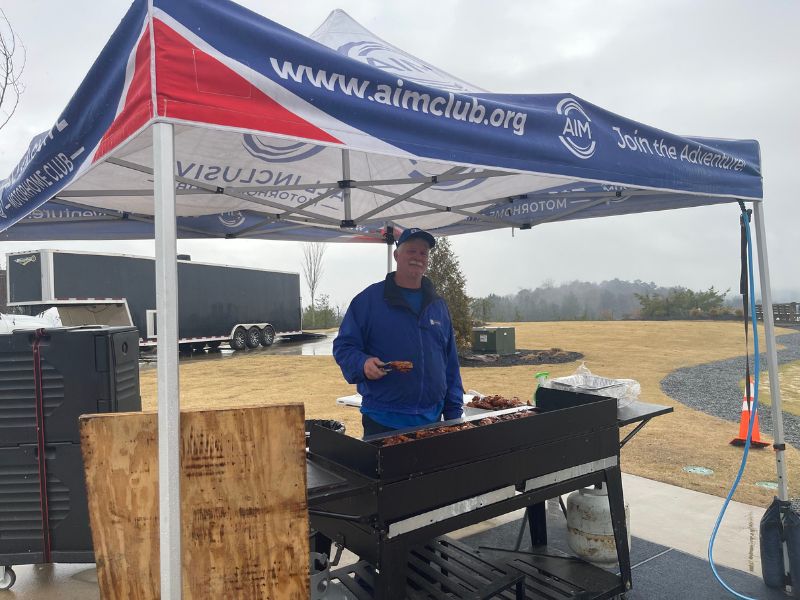 Randy, officially, is the AIM Club Event Operations Manager, a.k.a. "Randy The Rally Man," as Heather Smith, AIM Events Manager, explains:
"While half the team flies from destination to destination, Randy drives the truck and equipment trailer from Dallas, all over the country, with all of his supplies and everything else we need to put on a successful rally…"
Including the distinctive white canvas tent, the big wooden bar, Randy's grill and all the cooking equipment and supplies needed to feed 200 or more hungry AIM Club members and guests. Not to mention the signage and decorations, lights and power equipment, raffle prizes, gifts, welcome bags, and whatever else might be needed.
Randy has been with AIM since the beginning, in 2017. Before that, he worked for National Indoor RV Centers in Lewisville, Texas (Dallas) for 13 years, valeting RVs for the dealership storage department. 
When asked how he became the "Famous French Fry Guy" as AIM Event Operations Manager, Randy explained he used to cook for the sales staff on Saturdays at NIRVC: "They'd bring their own food and I'd cook for them."
In addition to driving the truck & trailer, wrangling the equipment, and cooking his famous french fries, with whatever else is on the menu (also guaranteed to be delicious), Randy keeps a fairly low profile. Well, he's a man of few words, but he is everywhere – involved in every event and activity, in some way.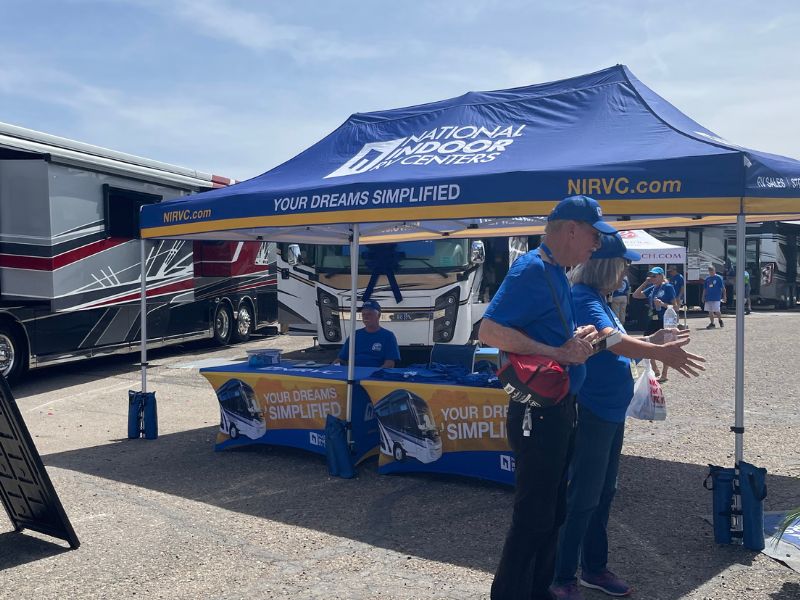 Q&A with Randy Nevels – AIM Event Operations Manager
Q: What's your favorite thing about your job?
A: "I like cooking for people."
He goes on to talk about the people he meets and their appreciation. Randy says some AIM members want to help him cook, and that's always nice.
When asked if they're helping out to learn all his secrets, he says, with a grin:
"They can't remember the secrets. I don't tell them everything." 😉
Q: What has been your favorite AIM Event?
A: "They're all good. I've been whitewater rafting; been to the top of the mountain in Big Sky, Montana, made a snowman up there; four-bying in Granby, CO… all the adventures we get to go on."
Q: What do you like to do when you're at home?
The AIM Team is on a full travel schedule throughout the year, with back-to-back AIM Club Rallies, NIRVC Events (Customer Appreciation Rallies and Grand Openings); sometimes back-to-back-to-back with FMCA Rallies and other events.
When they do make it back to the AIM Club Base at NIRVC – Dallas, it's still a full time job getting everything ready to go for the next series of events: unloading stuff from previous events; cleaning the cookers, grills, and other equipment; stocking up fresh supplies and materials.
A: "Randy tries to take time off when he can, three vacation days here and there, before heading out of town again, spending time with his girlfriend. When he's home, he likes to relax. He cooks sometimes. He works on his antique truck: a 1995 Ford F150 4WD with 45K miles, in perfect condition. "There's always a project."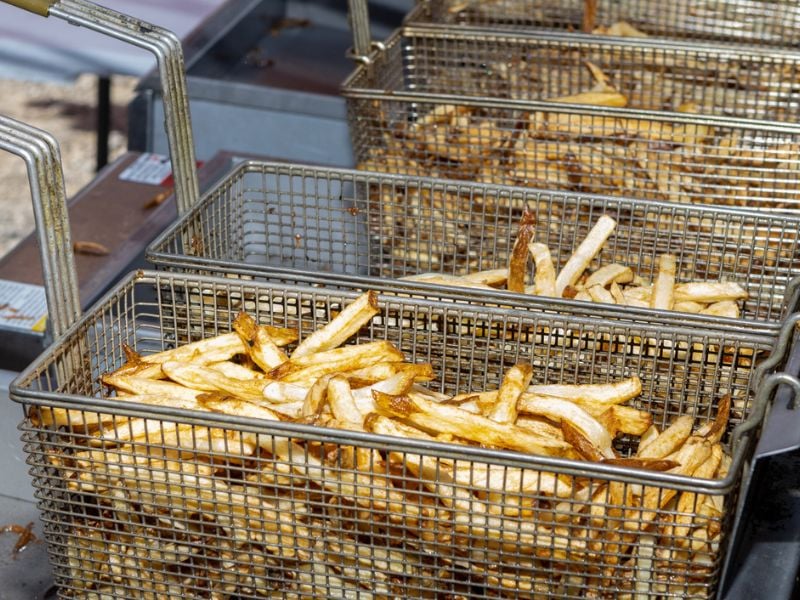 Back to those Famous French Fries
Q: How many potatoes does it take to make fresh fries at the events?
A: For an AIM Rally, with 100 coaches (about 200 people), it takes 100 lbs of potatoes per meal ("one cookin"). The process, in general (no spoilers!): 100 lbs of potatoes chopped, soaked, and cooked twice in peanut oil, "with seasoning."
"We always cook more than what we need, never want to run out. That's one of Brett's policies (Brett Davis, CEO of NIRVC – an AIM Club Sponsor): 'Never run out.'"
Randy once asked one of the AIM Members:
"Why do you like the french fries so much?"
Answer: "Because they're fresh, homemade, and then you season. Your secret sauce, that's the bomb."
Randy replied: "They're just potatoes."
"No they're not." [Can confirm!]
Randy and his Famous French Fries are truly legendary.
Randy The Rally Man, as AIM Event Operations Manager, is integral to the success of every AIM Club event. His famous french fries are just one of the things that will keep you coming back to AIM Club Rallies & Events again and again. And maybe even dreaming about french fries!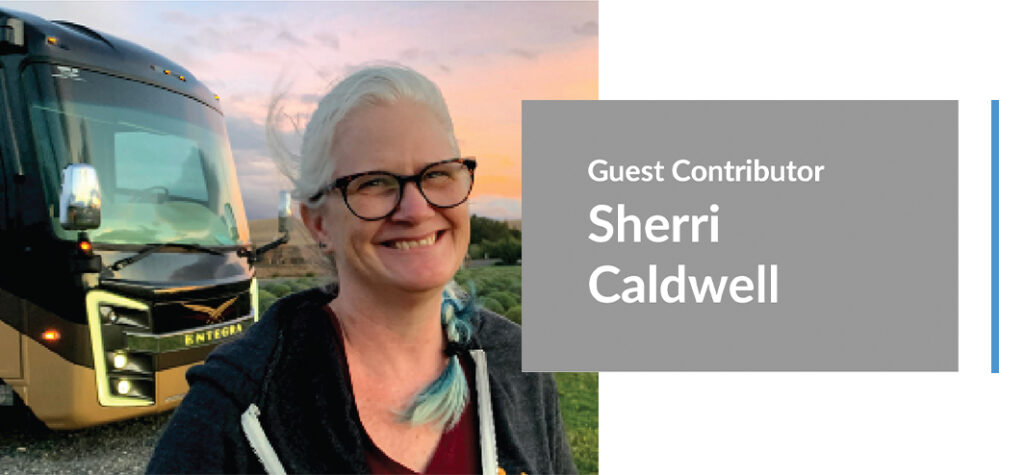 Sherri Caldwell is the founder of BooksAndTravelUSA.com – Full-time RV Travel Blog & Book Club/U.S. Literacy Project. With her husband, Russ, she is currently living, working, and traveling full-time in their 2016 Entegra Aspire: Charlie-The-Unicorn RV.