Updated: Mar 30, 2021
Well, now that it's been a few days of recovery, we wanted to write a quick blog post to give everyone a quick idea of what we just experienced in Quartzsite, AZ. We, and by we I mean: Heather Smith, our AIM Club tech crew (Corey Gann and Josue Ventura), and me, your host for the next few minutes of reading pleasure, Chuck Lasley.
Different, But Delightful!
The desert isn't for everyone, but for the 7 days we were in Arizona we got to experience what Quartzsite RV Show was really all about. It wasn't necessarily about the landscape, or the HUGE tent full of everything you ever wanted to buy… Quartzsite is about, friendship, comradery, food, shopping, and weather.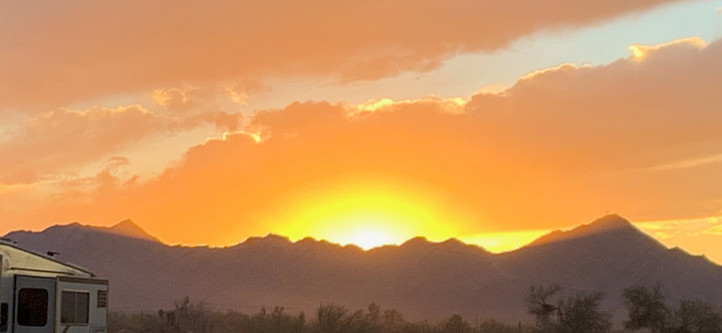 When I first showed up at the show to promote AIM and one of our newest safety products, Proteng, I was a little unsure about what we would find given the country's current state of affairs. But in true Quartzsite fashion we found our peeps… real, honest to goodness RV lovers. All camped out in BLM land sometimes scattered, sometimes circled or clumped together in pockets, all dry camping. There were no hook-ups out there, none. It definitely takes some planning and making sure all your ducks are in a row before venturing out into the desert.
Unfortunately, we did find far fewer campers this year. Most of the downturn, we were told came from a lack of Canadians who flock to the southern US area to escape the harsh winters of Canada. Their absence was certainly noted by AIM as well as the many other vendors present at the show. Having said that, spirits were up and people had high-hopes of getting back to normal next year.
A Booth to Remember!
For the first time, AIM Club had a presence at the Quartzsite Show. We had a real live booth hoping to spread the good word of AIM to motorized RVers throughout the area. Our goal was to bring awareness of the incredible benefits realized as members of the AIM Club, from the great discounts of service at any of the 5 National Indoor RV Centers… yes you heard me right, NIRVC now has 5 locations open and available to serve our AIM Club members. The newest location to open is their Nashville, TN store which opened in late December of 2020.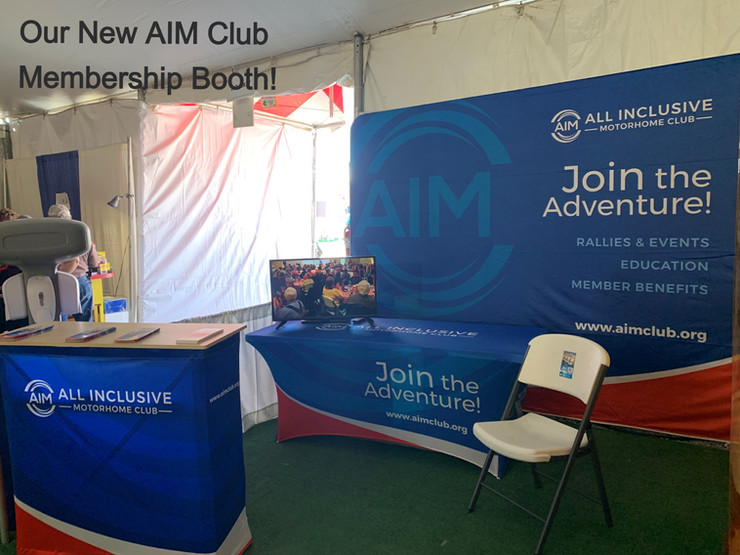 Although, numbers were down, we are convinced Quartzsite is definitely a place we would like to visit again. So look for us in 2022, we plan, if permitted, to pitch a hospitality tent, make some new friends, rekindle old friendships, enjoy some good food and excellent entertainment.
So be on the look-out for Quartzsite news coming your way in the not so distant future. And if there are any AIMers out there who would like to volunteer to be our Quartzsite Wagon Master for the event, please reach out to Tommy Townsend – you know where you can reach him. Until, next time… Happy Trails, stay safe and healthy out there on the roads of our beautiful country!