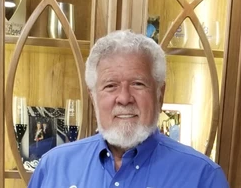 Well, folks…we are late for our Q3, our apologies! We sure would like to thank each and everyone of our members for making this a fabulous year in the AIM Club. Knowing each and every one of you had hard choices to make about the cost of getting from one rally to the next, we thank you for your attendance. We hope the next year can be just as enjoyable for each of us as we all enjoy this great life of RVing. We have just one back-to-back rally left to finish out the year and that will be our goodbye until we start all over again in Chiefland, Florida. Next, we head on down to Tampa, Florida for the Tampa SuperShow in January 2023 which will be a fabulous way to start off 2023.
As most of ya'll have seen on our Facebook, AIM Club Group, Bonnie and I are really enjoying the COE parks. For any of you guys that have not experienced it yet, just know that it is a fabulous way to enjoy our RVs. It is beautiful scenery including gorgeous waterways and not being jammed up against the campers next to you. These parks are so enjoyable, and the price doesn't hurt a bit. It kind of offsets the cost of fuel to some extent. On that note, our favorite one for this year was Methodist Cove, in Alma, Nebraska which is about an hour west of Lincoln which is where we went after the FMCA Convention. To our surprise, AIM Club Members Shug and Blair Bury showed up at the same park a couple of hours after we arrived. It was a great surprise, and we enjoyed a lovely afternoon with them.
On a less exciting topic, our rallies are for fun, excitement and learning more about these wonderful RVs we drive. Unfortunately, I've seen where a few members have made it their time to corner Brett Davis, President and CEO of NIRVC, (a very caring individual) and tell him all of their issues. Please remember, he has talented and capable General Managers at each of his locations who care deeply about you and your issues. In fact, each one of them have the ability to resolve your issues completely if you will give them the chance. Let's leave the rallies for having a good time!
We appreciate NIRVC and Freightliner and all of our other sponsors for all they do in supporting our club. It is only because of them that we are able to enjoy the super rallies we hold. Please always support them in any way you can. The AIM Event staff does a wonderful job putting these rallies together. Please, keep in mind, we often use 3rd party suppliers to assist in our festivities and although we wished everything would run 100% perfect every time, it doesn't. The Event Staff does their very best to mitigate any mishaps either before you discover them or attempts to correct any issues while it's happening. Believe me when I say, "they KNOW when something's gone wrong". Bonnie and I get to see behind the scenes, and I can tell you they work very hard to make sure a mishap or misstep doesn't happen a second time. (ok, rant over, sorry I couldn't help myself).
Everyone is asking Bonnie and I when we are planning to get a new coach. It is looking more and more promising all the time that we will be able to have a new coach possibly even by the end of 2023. We are not on a specific timeline and will wait until we can have exactly what we want. We have had the oil changed more times on this one than on any previous coach.
A subject that has a lot of members on edge is the problem of signing up for our rallies. We are a club with over 15,000 members and a lot of them are online trying to sign up for rallies all at the same time, which can be a challenge for any website. Between our server issues and club member web providers we have experienced some challenges for sure. Hold tight we are looking forward to some positive updates on the AIM Club website…from a functionality standpoint soon, which should help. If you discover a rally has sold out, please go on the waitlist. As soon as we have sufficient numbers on the waitlist, we often open a 2nd rally identical to the first. Those on the waitlist have first choice on the 2nd rally. Only after the waitlist is exhausted does the 2nd rally become public. These 2nd rallies turn out to be the best ones because the 1st one becomes a dress rehearsal in many ways. So, for those who always feel that they can never get in a rally, please note that we normally end up with spaces available at the very end.
Well, it is time to say goodbye for now. God Bless you all and safe travels. See you in Biloxi!