Bonnie and I have been having a great time in our coach this spring. We started the month of April at home in the cool Houston, Texas weather. Bonnie went to a quilt retreat with some of her friends, while I bach'd it at home. By the middle of the month, we were back in the coach traveling to watch our granddaughter in Pole Vaulting events in Waco and College Station. We attended the annual NIRVC Customer Appreciation Rally at the Texas Motor Speedway in Ft Worth (their rallies just get better every year thanks to Heather and Chuck). Next, we headed to our Corp of Engineer Park just south of Ft Worth. We were there to join in the celebrations of our granddaughter graduating from Texas Christian University, which is in Ft Worth. The day after graduation, we began traveling towards Branson, Missouri which is where our next AIM rally was happening.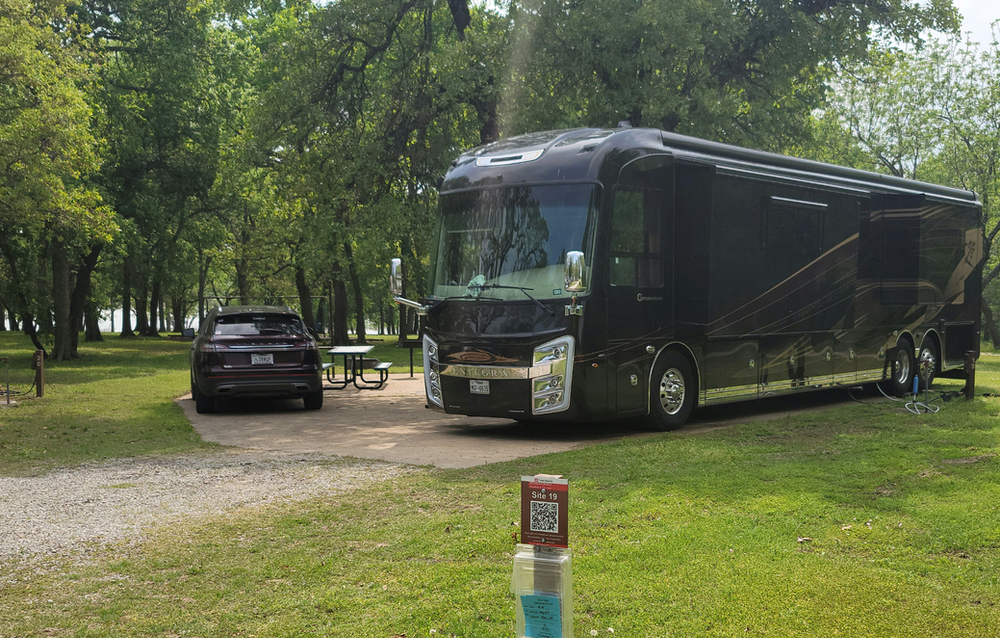 I know everyone is concerned about fuel prices. Bonnie and I are also concerned but have been looking for ways to combat the issue. We have gone through our bay storage and deleted several heavy items that we seldom use. We don't really have to carry everything down there plus the kitchen sink – we have one inside the coach. We have decided to drive slower; after all, we are retired, and we are supposed to be in less of a hurry. We are even discovering that we can leave a day or so earlier so that we can go at a slower pace. Being retired really has some great advantages. By driving slower, we increase our fuel mileage. I plan my fuel stops before we need it. I usually spend a couple of evenings looking at all my fuel apps trying to find the best area along my route for savings. Yes, the prices may not be exactly the same on my travel day, but at least I have a general idea of which station will have the best prices at the time we arrive.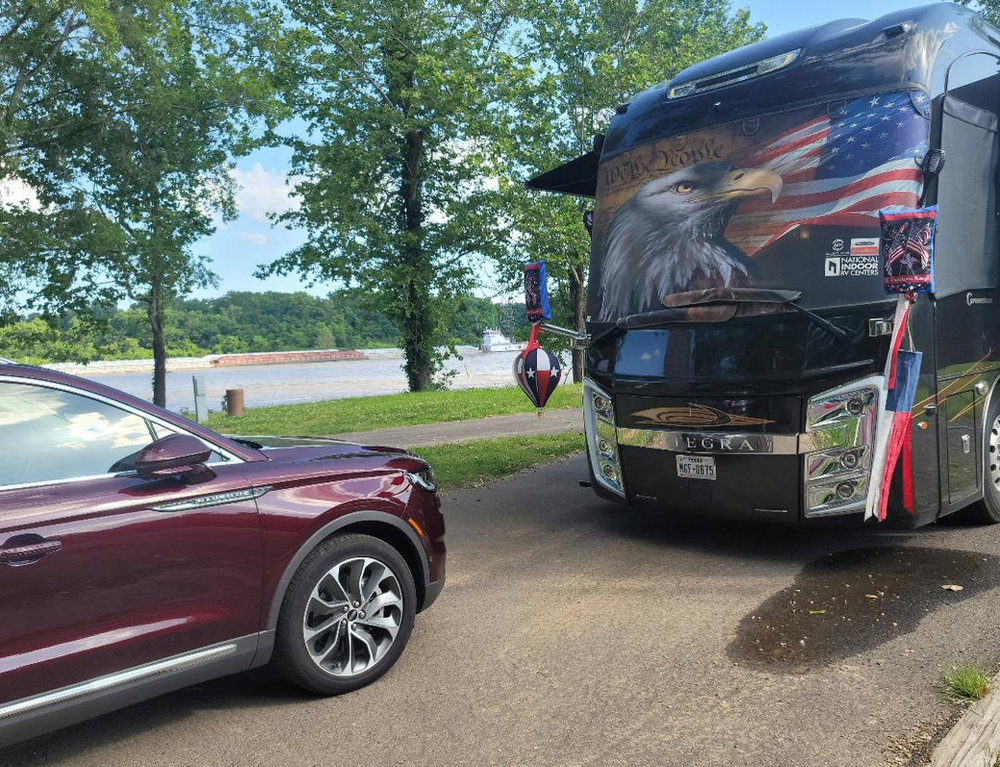 Bonnie and I are really enjoying the Corp of Engineer (COE) Parks across the country. With your Senior National Park card, the prices are cut in half even from the already very low prices. True, they are not "resorts", but we are loving them. We have discovered that the COE parks have very large lots in a generally beautifully wooded park. I never liked a lot with trees in a park, but these trees are so tall that they don't interfere with our internet. Sometimes, we are so far away from civilization that we don't have internet (and to be honest, it gives us a nice break from civilization). We carry a small library of our favorite DVDs just for those occasions. We always get electric and water at these parks and with a 4 – 5 day stay and being conservative with our water usage, we have not had any issues. There are nice dumps at all the COE parks, so if there was an issue, it is easy for our coaches to disconnect, go dump and return to our site if we choose to stay longer.
When we first began using the COE Parks, it was very challenging to find a park and find a space. We find now that we use 2 devices, and the process is much easier. I look on my phone to find a park with a map of the spaces. In the filters for your search, you enter the length of your coach, how many occupants, if you have animals, etc. Bonnie has her iPad, and she looks at each site that we are considering. On her iPad we are able to see: 1) how big the site is 2) type of parking surface provided 3) 30 amp or 50-amp service and water. Most of the time there is a picture of the sites. You can see in the picture if the site is near the water and if there are trees on the lot. They even have a 1-800 phone number that you can call if you are having issues and you can make reservations through them. One of the biggest problems we have had is trying to decide which COE Park to stay in on a particular lake or river. There are many COE parks around most lakes and rivers, so just start exploring. If you don't see a site you like, simply try another park close by. All of these parks are at least 30 minutes from the interstates, so they aren't really good for a 1-night stay. We try to make each stop at least 4 nights. And by the way, if for any reason you must cancel your stay, you receive a full refund.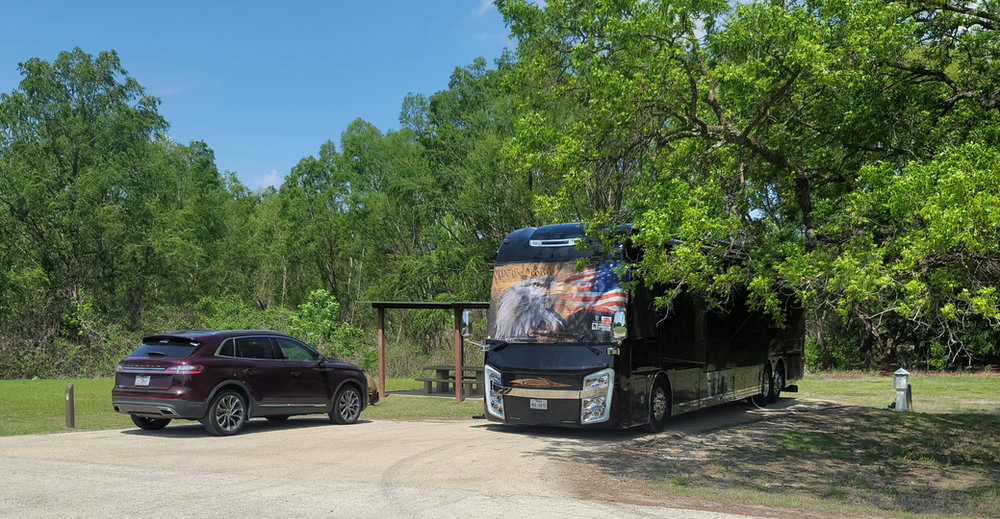 So go out, have fun and enjoy your coaches on the road. After all, instead of a $2,000 cruise for a week, you can drive and enjoy your coach for a month for that price. Don't get me wrong, we love to cruise, but don't consider giving up the RVing lifestyle because fuel prices have increased. Life goes on!!
Until next time,
Tommy Townsend
President
AIM Club