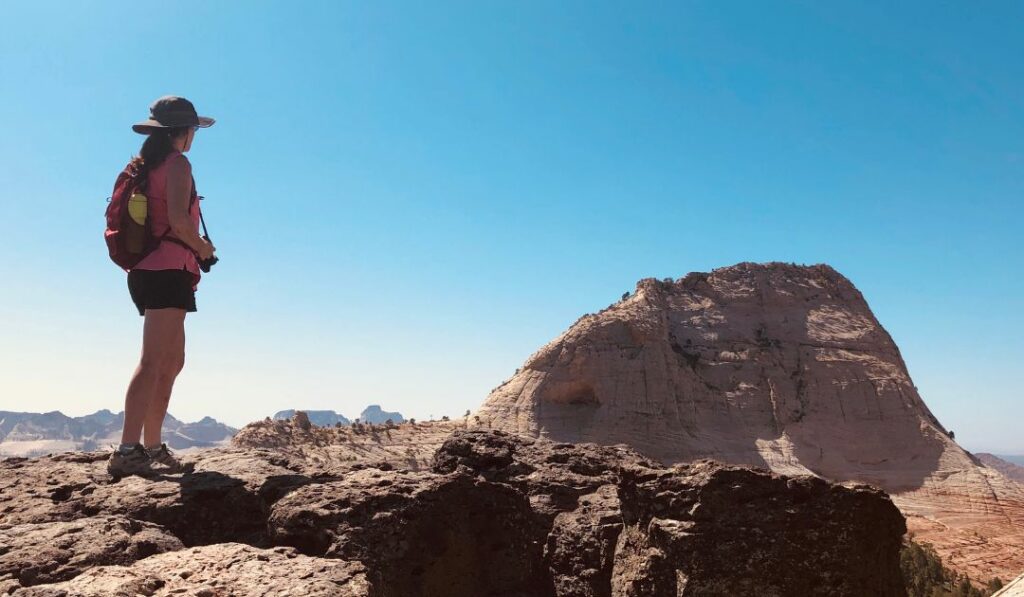 Overlooking a canyon in Zion National Park
Have you ever been to a national park? They are among the most popular destinations in America with visitors numbering in the millions each year, many of whom are RVers. Before we retired and started traveling in our motorhome, neither my husband nor I had ever been to a national park. Now, though, we are on a quest to visit as many of these treasured vacation spots as we can.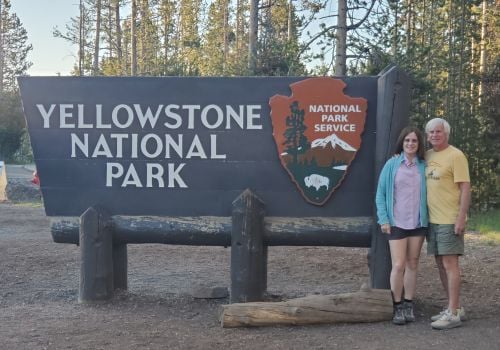 Taking the obligatory sign picture at the west entrance of Yellowstone National Park
So Many Places to See
Visiting any of the 63 national parks in your RV is a great way to spend time outdoors and see the vast beauty of our country up close. The national parks are only a small part of what's known as the National Park System, which includes 424 individual areas that span more than 85 million acres!
These areas include historic sites such as monuments and battlefields as well as seashores, scenic rivers, trails and, interestingly, the White House. Located throughout the country, each area provides a unique insight into the region and includes many environments like lakes, mountains, caves, forests and even sand dunes. There's truly something for everyone.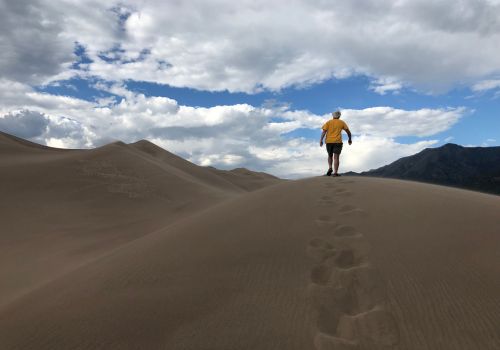 Playing on the giant dunes in Great Sand Dunes National Park
The Variety is Amazing
The wide variety of things to see and do in each of these national park areas is incredible. No matter what your interests are, you can be sure to find something you will enjoy. Photographing nature and observing the scenery and wildlife is always big on my list.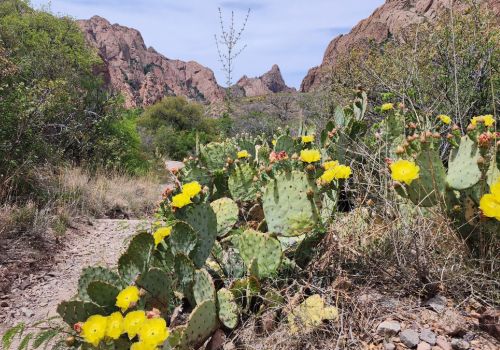 Beautiful flowering cacti in Big Bend National Park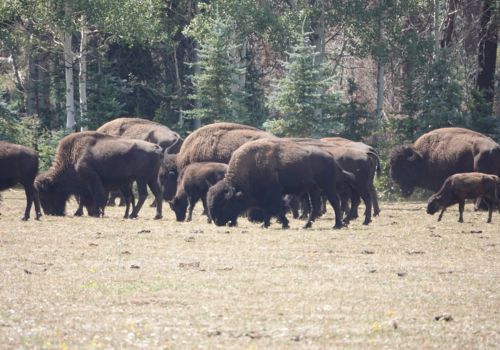 Bison herd near the north rim of Grand Canyon National Park
Every park we've visited has had numerous hiking trails for exploring the area's diversity. We also saw many jaw-dropping geological features. If history is your thing, you will find an abundance of information and interesting facts about both the park itself and the surrounding area on-site. Plus, the dark skies in the more remote parks allow for unbeatable stargazing opportunities.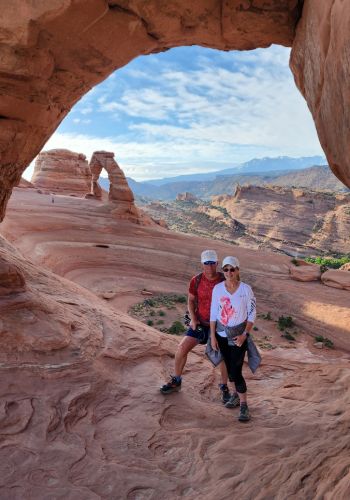 Early morning hike to Delicate Arch in Arches National Park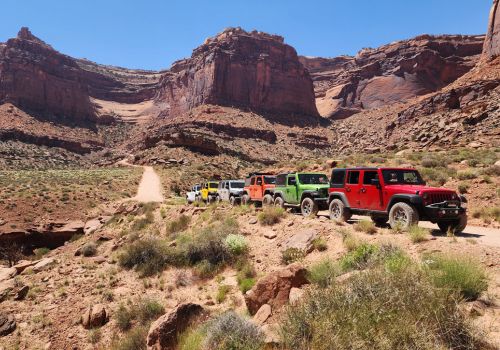 Jeeping fun in Canyonlands National Park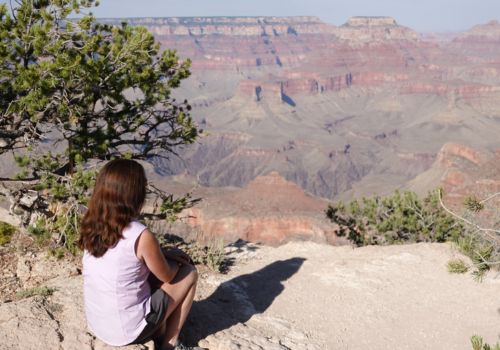 Enjoying the view at the south rim of Grand Canyon National Park
Plan Your Visit
With so many options, one of the hardest things to do is deciding where you want to go first. A great way to start is by checking out NPS.gov. The National Park System website is easy to use and allows you to learn more about the parks, including visitor center operating hours, road and trail conditions, weather, safety tips, camping information and available activities. It is important to check for any active alerts or closures that might be in effect as well as restricted access areas.
Over the past few years, several parks have implemented a timed ticket entry system to manage visitation levels. This $2 ticket is in addition to park entry fees and must be purchased ahead of time at Recreation.gov (Hint: if you can't get a ticket, you can still enter the park at off times before or after the ticket windows). The parks currently affected are Arches National Park, Glacier National Park, Haleakala National Park and Rocky Mountain National Park, but some other parks are increasingly requiring reservations and permits to access some of their most popular areas, such as watching the sunrise on Cadillac Mountain in Acadia National Park.
Save Money with a Park Pass
If you're going to visit several parks in a single road trip, you can save money by purchasing a National Parks Pass. Available at the park entrance or online, a pass costs $80 for annual access to all national parks and federal recreation lands for one vehicle or up to 4 people. Given that entrance fees for some parks are $35 each, visiting 3 parks makes the cost worthwhile. There are also free lifetime passes available for seniors, veterans and those with permanent disabilities, as well as free annual passes for active duty military members and all 4th graders. View all the available passes here.
When You Arrive
Planning your trip ahead of time will allow you to make the most of your time in the park. When you arrive, I highly suggest starting at the visitor center. Here, you can watch a short film to learn the history and geography of the park. Make sure you talk to a park ranger, too. They are the experts who can answer questions, offer suggestions for activities, provide trail maps and let you know about special events like guided hikes or ranger talks.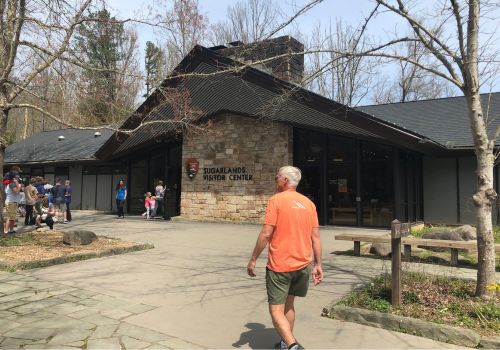 Stopping at the visitor center in Great Smoky Mountains National Park
You can use all of this information to help plan the duration of your visit, including details on where to park, getting to the most popular sites and finding unique adventures you don't want to miss! Don't forget to stamp your National Parks Passport and browse the gift shop for a memento to commemorate your stop.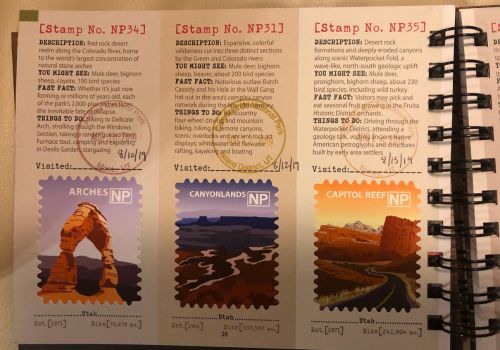 National Parks Passport book with stamps
Get Out in the Park
After checking out the visitor center, you'll be ready to head into the park! We often start with a scenic drive so we can stop at the overlooks and take everything in. Some of the most stunning viewpoints are at these overlooks. This is a great time to have your camera handy to capture the gorgeous scenery.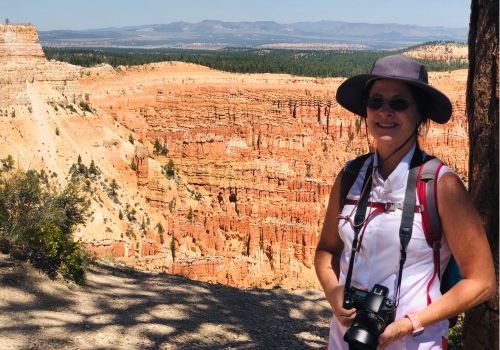 Admiring the hoodoo formations at Bryce Canyon National Park
If we plan to spend several days in the park, we usually wait until day 2 to do some hiking. Since we've already received trail information and have likely decided on a specific hike, we can get an early start to beat the crowds — and the heat.
Always make sure you bring the necessary supplies for whatever activities you have chosen to do. For example, you will definitely want to wear good walking shoes and pack sunscreen, a hat, plenty of water and snacks that won't melt or spoil. If the trail has a high elevation, walking sticks are extremely helpful. Don't forget the bear spray, if required!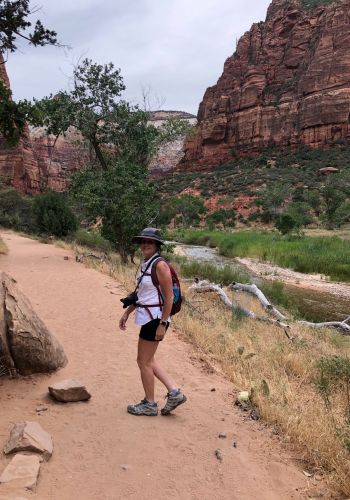 Hiking a trail in Capitol Reef National Park
Respect Nature
Whatever you choose to do in the national park, please remember to minimize your impact on the park's plants, animals and ecosystem. The motto "leave no trace" encourages visitors to respect wildlife, be considerate of others, leave what you find, stay on trails and properly dispose of waste.
We are so fortunate that conservationists and leaders had the foresight to create the National Park Service back in 1916. The government agency ensures the preservation of our nation's natural beauty and resources so they will be around for everyone to enjoy and learn from for years to come.
Have Fun and Make Memories
Traveling in your RV is the perfect way to experience a national park. You can camp within the park or at a nearby commercial campground. We often meet up with family or friends for even more fun during our stay. Whatever areas you visit or activities you choose, you are sure to create lasting memories!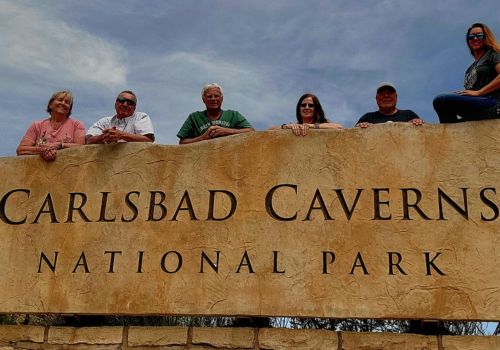 Exploring the caves with friends at Carlsbad Caverns National Park
Robin and her husband, Mike, are Air Force veterans and empty nesters who have been traveling full-time in their Entegra Anthem motorhome for 5 years. Always ready to explore, they love nature and wildlife, meeting new friends and discovering America one stop at a time. Robin writes about their travel adventures, RVing tips, and the full-time RV lifestyle on her blog RVing with Robin.