Jalapeno Popper Mac & Cheese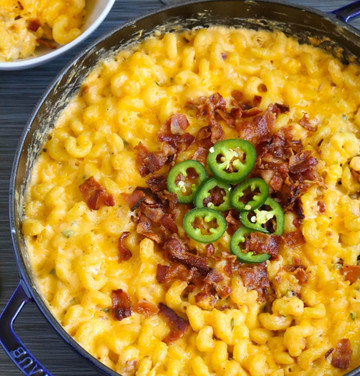 Serves 10/Calories: 968
1lb Elbow Macaroni, cooked
2 Sticks (1C) Butter, divided
1/3C of flour
5C of Whole Milk
2t Salt
2t Garlic powder
1/2t Black Pepper
3C White Cheddar Cheese, shredded, divided
4C Pepper Jack Cheese, shredded, divided
8oz cream cheese, cubed
1lb bacon, cooked, chopped
8 Jalapenos, seeded and finely chopped, plus more for topping
1C Panko
Heat oven to 375 Degrees with rack in the middle of oven

Melt half of the butter in a large saucepan over medium heat. Add flour to melted butter whisking constantly until flour is fully absorbed in butter.

Slowly whisk in milk one cup at a time. (the slower you add the milk, the quicker the sauce will thicken.)

Once sauce is thick stir in cream cheese along with all grated cheese, reserving 1 cup, until cheese is melted.

Add salt, pepper, and garlic powder. Adjust seasoning if needed and add all but 2 tbsp of the bacon and jalapenos and remove from heat.

While the sauce is cooking, cook pasta in a large pot according to package instructions, Stir together the cooked macaroni noodles and the sauce then transfer to a 9 x 13 baking dish.

In a small skillet melt remaining butter. Remove from heat and toss panko into melted butter.

Top with remaining cheese and buttered panko. Bake in the oven until golden and bubbling, 30 – 40 minutes.

Once finished…top with sliced jalapenos and reserved bacon. Serve warm.