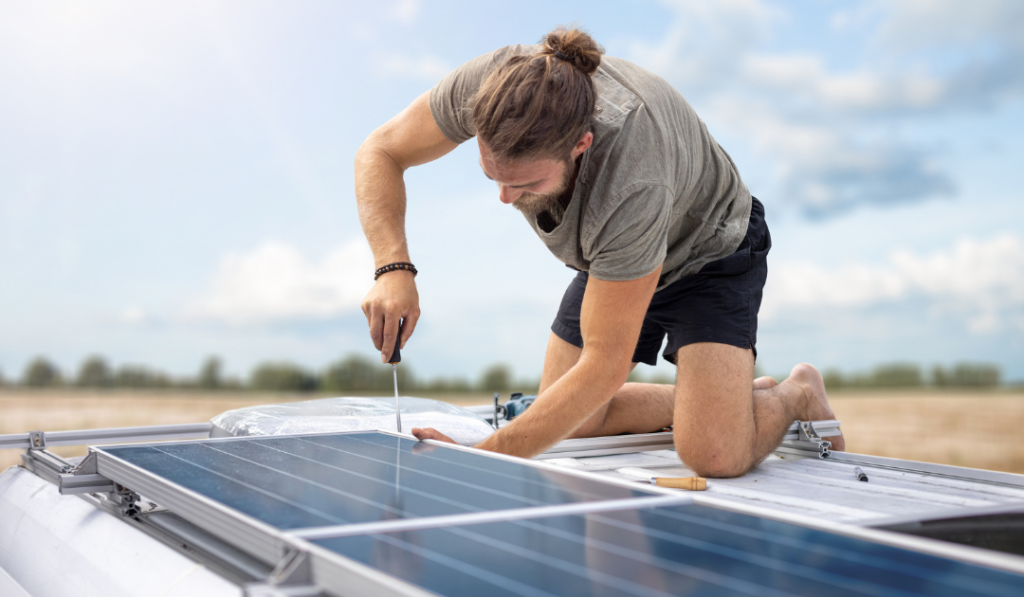 How to add an accessory to your RV


Wires are just like water pipes in that you can only pump so much stuff through a given size pipe without losing pressure. If you try to send too many amps through too small of a wire the voltage will drop, the wire will get hot, your device won't run properly, and you'll probably blow the fuse for that circuit. The chart below will give you a good idea as to what wire gauge you will need to use if you want to add an accessory to your RV.
| Wire Gauge (AWG) | Wire Diameter, in Inches | Current Capacity, in Amps |
| --- | --- | --- |
| 0000 | .4600 | 600 |
| 000 | .4096 | 500 |
| 00 | .3648 | 400 |
| 0 | .3249 | 320 |
| 1 | .2893 | 250 |
| 2 | .2576 | 200 |
| 4 | .2043 | 125 |
| 5 | .1819 | 100 |
| 6 | .1620 | 65-80 |
| 8 | .1285 | 40-50 |
| 10 | .1019 | 30-33 |
| 12 | .0808 | 20-23 |
| 14 | .0641 | 15-17 |
| 16 | .0508 | 7.5-10 |
| 18 | .0403 | 5 |
| 20 | .0320 | 3.3 |
| 24 | .0201 | 1.3 |
| 28 | .0126 | 0.5 |
For example, if you want to add a small fan to your RV that has a motor rated at a 4 amp draw you will need to go with a #18. The 20 gauge wire is only rated for 3.3 amps while the #18 can safely handle up to 5 amps so you always round up. If you want to install a water pump that pulls 20 amps, you'll need to use a #12 wire. If you want to add an inverter and its DC battery draw is 400 amps you will need a #00 wire. Keep in mind that you can always go to a larger wire gauge without any bad results but you can never go smaller. Also, the length of wire will also affect its ability to carry current. If you are running long runs of wire you may need to increase the wire gauge to allow for the extra resistance incurred by the extra lengths. In this case, use the above wire gauge chart conservatively when choosing which wire gauge to use. Going larger is always a safe bet.
RV Inverters and Chargers
Inverter/chargers do have on/off buttons to disable either or both functions but they are not normally needed because the inverter/charger will automatically switch back and forth as needed. However, when the coach is stored it's not enough to switch off your output circuits. An inverter will have a slight idle current even while not in use if it is allowed to be powered up. When storing your coach without shore power be sure to switch off your inverter and charger at the inverter itself to eliminate the idle current from slowly draining your batteries.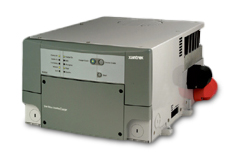 A Xantrex 2,000-watt true sine wave inverter/charger
RV Inverter Installation
If your RV doesn't have an inverter, but you would like to install one, be sure to download a copy of the manufacturer's installation manual from their website and read it first before buying your inverter. Inverters do need the proper environment. True sine wave inverters can create a fair amount of heat. If you place them in a large basement pass-through storage area you'll be fine but if you place them in a small enclosed compartment they will overheat. In that case you'll need to provide some intake air as well as a place to exhaust the heat, preferably with a fan.
Automatic Generator Starting:
Automatic Generator Start (AGS) systems do just what you think they might do – they start your generator set automatically, even if you are not near the coach. These systems vary in complexity and design. Some systems are standalone systems and are simply a module that connects to your generator set to start it if your batteries get low. Some systems, such as the Onan EC-30, are an all-in-one system that builds the circuitry into its remote display and control panel. This system design also includes a thermostat interface so that it can start your generator in response to a request for cooling from the air conditioner's thermostat. Other systems, such as the Xantrex and Magnum AGS modules, are designed to network with an inverter and use the same remote display panel as the inverter to control both the inverter and AGS module via menu driven software. So there are a number of options and choices available when selecting an AGS module.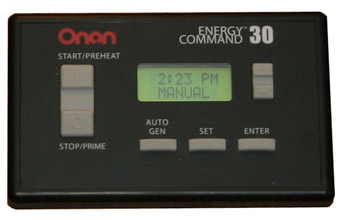 The Onan EC-30 Automatic Generator Start module
Selecting an AGS System for your RV
The first thing to do is determine just why you want an AGS system in the first place. If you are only going to run your generator to power air conditioning when driving you probably don't need one. If you will be dry camping quite often you will need to run your generator every now and then to recharge your batteries. If your batteries drop below a given voltage your AGS can start the generator set for you automatically while you are off sightseeing so that you don't return to a dead coach. This is the basic feature of any AGS system. You can also recharge your batteries while you sleep if they drop down during the night without having to worry about setting your alarm clock. Many campgrounds do have a quiet time posted where no generators may be run during the evening but more advanced AGS models include a quiet time setting that can be set. In that case the AGS module will not start your generator during those quiet time hours and will wait until morning to auto-start. Some models, like the Onan EC-30, include predictive scheduling. The AGS will monitor your battery voltage level and if it determines that it will need to recharge them during quiet time, it will start the generator earlier and then shut off so that they will be recharged when your quiet time begins. 
The next level includes a thermostat interface. Your AGS system will be connected to your air conditioning system's thermostat. If a request for cooling occurs, the AGS will start your generator and power the air conditioning system to prevent your coach from overheating. Some systems also include a shore power connection so that the AGS will only start the generator if there is no shore power present. This is a great feature for RV owners who have pets and normally camp in full service campgrounds. The shore power will power your coach's air conditioners to keep your pets from overheating. But, what happens if the shore power was to go out or the pedestal breaker tripped while you were away from the coach? Your air conditioners would stop working and you might be returning to a coach with pets that suffered heat stroke.
If you have an AGS that does not have a shore power sense, but does have a thermostat connection, you'll find that the generator will start up every time the thermostat calls for cooling – even when the shore power is functioning. This is not desirable so you will have to install a relay that is fired by the shore power side of the transfer switch and then intercept the low voltage wires that connect the thermostat to the AGS module. This will break the circuit whenever shore power is present so that the AGS never sees the input signal from the thermostat. When the shore power fails the relay will allow that connection to take place. With an AGS that has shore power sense you won't have to worry about that. All of the logic is handled within the AGS electronics and it won't start the generator if shore power is present. If shore power fails and cooling is desired it'll start the generator and your pets will be safe.
If you have a Silverleaf or Firefly networked whole coach system that controls most coach functions via a multiplexed network you most likely have a bridge, which is a device that bridges the communication with the inverter/charger and the Vegatouch control system. This allows complete control of the generator and AGS module via the master control touch screen in the coach.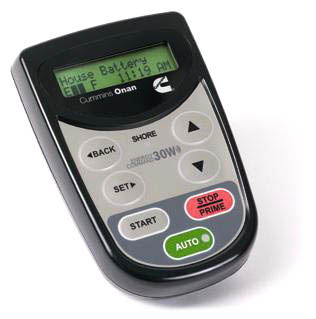 The Onan EC-30W AGS unit uses a wireless controller
Installing an Automatic Generator Start
Installing an AGS module requires a bit of work. You need to run wiring connections to the transfer switch mounted transformer as well as the batteries, generator start-stop switch, remote control panel and HVAC thermostat. Fishing all of those wires can be tedious and sometimes difficult. 
Wireless units will save you some time by allowing those connections to be performed under the floor in the chassis area, using wireless operation to the remote display panel in the RV. The Onan EC30W is the premier wireless system. The remote unit communicates wirelessly to the main harness and even contains a temperature sensor so that you don't have to tap into the existing HVAC thermostat.
You do have to be careful of where you place the remote though. If you set it in a hot spot it'll be triggering the generator prematurely. You also run the risk of communications failure, which can happen with any wireless electronic device, particularly when you consider that the signal needs to pass through the motorhome's steel firewall.