For a limited time, new RV owners with a Freightliner Chassis are invited to join AIM Club for FREE for the first year, courtesy of Freightliner Custom Chassis Owners Club!
Use code FREIGHTLINERAIM22 to take part in more adventure, more education and more community for FREE in 2023!
As an AIM Club member, you'll get RV service discounts at National Indoor RV Centers, Roadside Service, and SkyMed. Plus AIM offers adventure-filled rallies and events across the country all year long!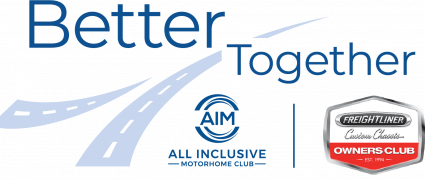 FREE 1-Year AIM Club Membership
$25 off Full Generator Service (1x/year)
$50 off Full Engine Service (1x/year)
$50 off Full Wash/Detail Services (1x/year)
10% off Paint & Body Work (up to $500/year)
Coach-Net Emergency Road Services Discounts
SkyMed Ambulance Services Discounts
Special Discounts on Your Vehicle Insurance
Access to Fun, Adventure-Filled Rallies & Events
Use code FREIGHTLINERAIM22 at checkout for a FREE 1-year membership!
Not a member yet? Join AIM Club today!