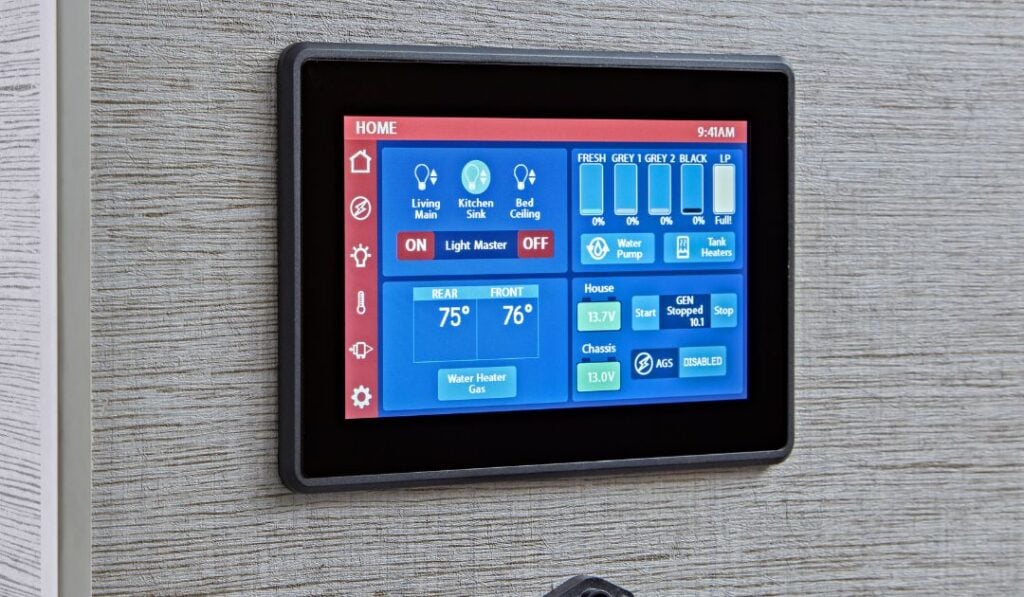 Want a More Eco-Friendly RV Experience? Here's Where to Start
Green RV living doesn't have to be a chore. 
Being eco-friendly in an RV can feel like treading an incredibly delicate—sometimes contradictory—balance. On one hand, traveling in an RV offers an unparalleled sense of adventure. It allows you to appreciate scenic vistas and beautiful natural locations in a way that's not possible with other forms of travel. On the other hand, RVs are powerful vehicles, and they can damage the places you visit if you're not careful–especially if your adventurers take you to delicate areas.  
While it requires an additional degree of care and consideration, it's entirely possible to abide by eco-friendly practices during your RV trips. Keeping your RV footprint green isn't a simple one-and-done thing but rather a series of conscious choices to be made every time you hit the road. There's no single, universal set of rules for being eco-friendly, but there's plenty of agreement about good places to start. 
Here are a few things to keep in mind to maintain a greener, cleaner RV experience. 
Remember the 3 Rs: Reduce, Reuse, Recycle
This might sound basic or condescending but switching to RV life can cause people to forget the connections they have in place for sustainable practices. Recycling, in particular, can be a lot easier at home where you've got designated recycling bins versus RV campsites that may not have them.
So, properly recycling will likely require finding a designated center along your route. Services like earth911.com and recyclerfinder.com are both great resources for finding recycle sites near your campsite. 
Beyond that, it's a good idea to invest in some reusable storage containers. In addition to minimizing your ecological footprint, having reusable bags for food, groceries, and supplies makes it easier to organize your RV and keep it clean. 
Be Mindful Of Your Energy Use
While it obviously isn't the ONLY way in which your RV produces pollutants, your energy use is a good indication of your RV's carbon footprint—and effectively lowering it means you're reducing the impact your RV has on the environment. 
Taking charge of a recreational vehicle's energy use looks different for everyone, but the same best practices for non-wheeled homes are a good place to start:
Turn off lights when you're not using them.
Try to cluster showers, so you're not overworking the water heater.
Remember, a cozy pair of socks can save you from having to crank the thermostat. 
Products like RVWhisper can go a long way in helping get a handle on your energy use. This particular product pairs with an app on your phone to deliver real-time reporting about your RV's power usage, allowing you to be a lot more mindful about where your electricity is going. 
A Little LED Goes a Long Way
Simply put, LED lights are fantastic. Not only do they reduce your vehicle's energy consumption, but they also aren't made of glass either, which eliminates countless different safety, storage and maintenance considerations. While newer RVs have LED lights as a standard feature, older ones might require some upgrades.
No matter how fancy your LEDs are, they're virtually guaranteed to require less power than conventional bulbs, resulting in better energy efficiency for your recreational vehicle. 
If you're willing to sink some time and money into DIY projects, then the internet has no shortage of awesome inspiration for creative RV lighting. The flexibility offered by LEDs means you can do all sorts of interesting customizations with them. Want the lighting in your RV to mirror the sunrise and sunset? You can absolutely do that. Want to drive in a non-stop hot pink ambiance? The sky's the limit.
Eco-friendly RV camping isn't just a one-and-done switch you can toggle. It's a series of active commitments you need to maintain to start seeing an impact on your ecological footprint. When done mindfully and intentionally, these eco-friendly practices don't just minimize the stress your RV places on the environments you visit, it also makes for a more rewarding experience in the driver's seat as well. 
Making sure your rig is in tip top shape can also help you manage the impact your motorhome has on the environment.