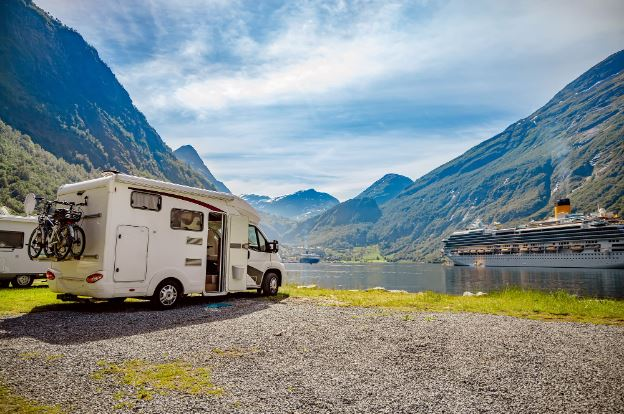 Florida
Best Months: Any
You don't earn a name like "Sunshine State" accidentally. The climate is just one of the many reasons to visit Florida. These also include accessible beaches, easy-to-drive roads, and plenty of interesting tourist destinations. Did we mention there's plenty of sun?
Florida is known for being a super RV-friendly state, and that translates to awesome RV accommodations and friendly rates for RV camping. Some of the most popular destinations include the Florida Caverns State Park—which allows guests to hike near breathtaking rock formations—and the freshwater springs at Juniper Springs National Recreation Area.
If you venture out to Orlando, there's always the option to check out Disney's Fort Wilderness Resort, which combines RV camping with all the magic of a Disney Park visit!
South Dakota
Best Months: April-September
While most people don't associate this state with being a trendy tourist destination, it offers a unique look at America that's unlike any other place in the country. Combined with accessible roads, beautiful scenery and plenty of interesting tourist stops, it can make for an easily memorable RVing experience.
There's a certain living history to South Dakota that's easy to pick up across long peaceful drives in your motorhome on its gentle roads. You can feel shades of America's storied past in locations like the Badlands National Park, which offers breathtaking rock formations that have a certain rugged, fantasy magic to them.
One required destination on any South Dakota trip is the Wall Drug Store, a mom-and-pop store that's blossomed into a full-on tourist destination. Featuring a mall, general store, and plenty of quirky merchandise, it feels like a glorious time capsule to a different era—one that is best experienced while traveling in your luxury motorhome.
Arizona
Best Months: April-June, September-November
Unless you really, really like the heat, you'll probably want to visit Arizona during one of its cooler months. During the summer, there doesn't feel like much to do besides sit in pools and wish that you were somewhere cooler.
Once you get past the heat, however, you'll find that Arizona offers some of the most breathtaking desert scenery in the country. There's still plenty of wild west spirit left along the state's open roads, and it's impossible not to feel it during long, scenic drives in your motorhome.
While Arizona is home to one of the most popular RV destinations in the country—the Grand Canyon—it's also home to some lesser-known ones. The Petrified Forest National Park allows guests to wander across stone log fragments while basking in the beautiful scenery of the Painted Desert. Meanwhile, Meteor Crater allows RVers to see the best-preserved meteorite impact site on earth—just miles from the historic Route 66!
Colorado
Best Months: May-October
While Colorado winters can be incredibly beautiful, they can also be a bit chilly well into May. As long as you're willing to put up with catching a surprise blizzard for half of the year, Colorado offers breathtaking scenery and plenty of things to do while traveling in your motorhome. As many of the state's RV destinations are within a day or so of Denver, it's easy to fit plenty of interesting adventures into a relatively short RVing trip.
Rocky Mountain National Park is considered a national destination by mountaineers and nature photographers, and it's not hard to see why: it's incredibly beautiful! The western half of the state is dotted with plenty of interesting mountain towns, offering plenty of chances to absorb the state's interesting history while venturing through its western half.
Colorado is also an incredible place for watching fall colors, as long as you're ready to drive away when the surprise snow rolls in! There are plenty of byways around Fort Collins and Leadville that are blanketed with bright fall foliage and unparalleled views.